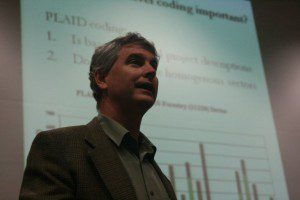 The fourteenth Duck of Minerva podcast features Michael J. Tierney. The bulk of the interview focuses on the TRIP survey and the state of the field of International Relations.
From his webpage:
Professor Tierney received a B.A. from William and Mary in 1987 and a Ph.D. from the University of California at San Diego in 2003. He teaches courses on international relations, international organization, and research methods. He has published two books: Greening Aid? Understanding the Environmental Impact of Development Assistance, Oxford University Press, 2008; Delegation and Agency in International Organizations, Cambridge University Press, 2006. Professor Tierney has published articles in a variety of journals including International Organization,International Studies Quarterly, Review of International Organizations, World Development, Review of International Political Economy, Foreign Policy, Journal of IR and Development, Politics and Gender, Environment, International Studies Perspectives, Law and Contemporary Problems, and International Journal. He is currently working on principal agent theory as applied to international organizations and a book that explores the relationship between IR as a scholarly discipline and IR as lived by practitioners.
I should  note an important change to procedures. From now on, the Minervacast feed will host mp3 versions of the podcasts. The whiteoliphaunt feed will host m4a versions of the podcast. Unless I hear otherwise, we will continue this approach into the foreseeable future.
 When not on hiatus, Duck of Minerva Podcasts generally come out at the end of each week. To subscribe via iTunes go to "Advanced" and then choose "Subscribe to Podcast" and paste the either feed URL. Individual episodes may be downloaded from the Podcasts tab.