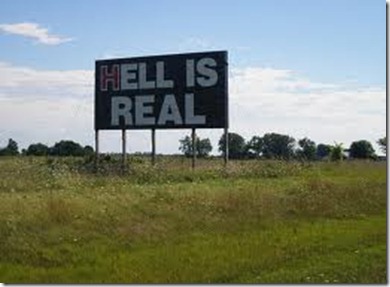 On Interstate 71, south of Columbus; Ohio's most famous sign
So it's election time, which means CNN, etc. will be filled with pundits with only the vaguest credentials – never any PhDs

– telling you why the outcome inevitably had to be such-and-such. (Retrodiction is so insufferably smug.) And they'll explain it as if these tired clichés are real insights and not the same flim-flam they pedal every November.
So let me predict the future: here are the five worst clichés you'll hear Tuesday – the lamest, most recycled, simplistic, and least analytically useful (because they're so flexible they can explain almost any outcome).
Save yourself hours of Donna Brazile and David Gergen right now; just roll these out at Thanksgiving dinner to impress the relatives:
1. Ohio, or the white, blue-collar voter theory of everything
Every four years the media runs the same easy, generic storyline about my state (Economist 2004, 2008, 2012; FT) that goes something like this: 'these grizzled veterans of America's economic dislocation cleave to their guns and religion but increasingly live in suburbs and see their kids work in tech plants outside Columbus or Dayton. The large urban populations of Cleveland and Cincinnati are balanced by the church-going rural voters in the god's country of southeastern Appalachia…' Yawn. And it goes on like that for pages. Most of these articles make sure to cite the above picture. And yes, that sign is for real; I've seen it. It's on the same road that leads to the Creation Museum (no joke either – I've been there), but thankfully that's over the river in Kentucky. I guess they go to the dentist even less often than we do.
The thing is, we get all this attention for 3-4 months before every election – but then nothing afterwards. So how much can they can take us seriously as a swing state? In 2004, Rove drove up GOP turnout with the Defense of Marriage Act ballot issue and terrorism. In 2008, Clinton and Obama told us they were going to amend NAFTA and reduce illegal immigration to save our jobs. This year, Romney and Obama promise to defend us against China. If you're keeping score, that means there should be no homosexual Mexican terrorists driving NAFTA-certified trucks on Chinese tires around Ohio. Ah yes, Ohio, that clichéd, right-wing blue-collar paradise!