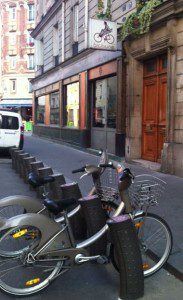 Editor's Note: This started off as two bullet points, but it's morphed into a surprisingly lengthy piece about Bikeshares.  Blame the easy availability of both picturesque bike rides and cheap wine in Western Europe.  This is the first installment; a second will follow.
At the age of 19, I moved to the Netherlands for a summer.  Like most tourists, I had read about the famous Dutch "white bikes," a non-locked bike-sharing system that guidebooks were fond of presenting as proof of Dutch civic-mindedness.  The system was simple: see a white bike, take, use, leave wherever.  Of course, there was an alternative course of action, perhaps unforeseen by white bike planners: take, use, spray paint, keep.*  I never saw a white bike.  There are mixed reports on whether the system was ever particularly vibrant; by the 1990s, however, it was gone.**
In the mid-2000s, the solving of the enforcement issue allowed the birth of modern bikeshare systems in western Europe.  These systems relied on locking stations, credit card-secured rentals, and heavy step-through commuter bikes.  They now exist in major cities on five continents, and we're inching toward exponential growth in both numbers of systems and riders.  Western Europe is increasingly saturated, and bikeshares are spreading to smaller towns, especially in France, Spain, and Italy. North America has been slow out of the gate, but there are established systems in DC, Boston, and Denver.  New York's Citibikes are finally online. Los Angeles, Chicago, Miami, San Diego, and others should be up within the next year.  Though information on bikeshares outside the OECD is bikeshares is minimal, they do seem to be a truly global phenomenon. In Asia, Hangzhou currently has the world's largest bikeshare with 66,500 bicycles, roughly 3 times the number of Paris's Velib; Beijing's currently has 14,000 with plans to expand. Several Indian cities have incipient bikeshares, as do cities in several Latin American countries.