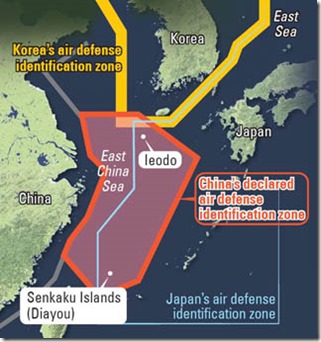 If you haven't yet seen the zone's geography, here it is to the left, complete with its overlap with the Korean and Japanese zones. The most important conflict of course is over Senkaku, but Korea watchers will also note that the Ieodo submerged reef, which Korea claims, is also in the zone. Gotta wonder what the Chinese were thinking by giving Korea and Japan common cause over anything. Foolish.
Dan Drezner asked the question I think pretty much everyone is wondering now: did the PRC really expect the US, Japan, and SK to just accept this out of the blue? Obviously they're not, and it's hard to find anyone besides the Fox News of Asia Global Times who thinks they should. The following are some quick ideas for where this suddenly came from. Each is more-or-less tied to a level of analysis, but the prose is laymen-style because it was originally written for media
1. Belligerence (anarchy, straight-up realism): the Chinese really are picking a fight with Japan. This is the worst possible reason. They may figure that the Hagel visit to Japan a couple months ago has made Japan into an open challenger to China now. And that is kinda true. America is hedging China, ducking and weaving, trying hard to avoid an open confrontation with it. But Japan is increasingly unabashed that is it balancing China directly as a threat. Abe is increasingly willing to call out China openly. So Asia is becoming a serious bipolar contest, and maybe the Chinese are thinking: 'to hell with it; Abe's playing tough; we have too also.' Certainly my Japanese colleagues in this area increasingly talk about China this way.