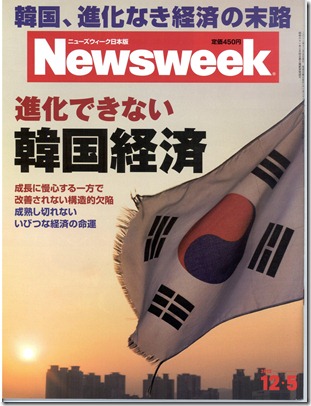 Newsweek Japan asked me for an long-form essay on Korea's economy for its December 5 issue (cover story to the left). Here is the link in Japanese, but I thought it would be useful to publish the original, untranslated version as well. (If you actually want the Japanese language version, email me for it please.)
The essay broadly argues that Korea needs to move beyond 'developmentalism' toward economic liberalism, as a lot of Asia does in my opinion. Regular readers will see themes I have emphasized before. This was intended for the print edition, so there are no hyperlinks included in the text. Here we go:
"As Korea's presidential election moves into the home stretch (December 19), the local economic discussion is sharpening. Inequality, demographic collapse, massive concentration of economic weight in a few mega-conglomerates, weak consumer purchasing power, growing trade friction over intellectual property rights, and a chronically under-powered small- and medium-enterprise sector (SME) are among the major problems this outwardly very successful economy must confront. Unfortunately, none of the major candidates are pushing the deep reform needed to fix these underlying issues. As with China's leadership transition, things seem so good at the moment that elites are wary of rocking the boat; as with the recent American election, tough choices will likely once again be kicked down the road. In Korea's case, that means moving away from its 'developmentalist' growth model before encountering troubles similar to Japan's.