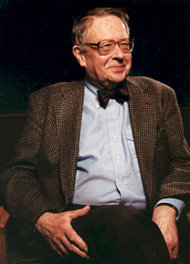 I attended a celebration of the life of Kenneth Waltz held at Columbia University last weekend. The service was organized and hosted by Robert Jervis, Robert Art, and Richard Betts and included sixteen speakers — family members, scholars, and former students who gave wonderful tributes based on their own personal reflections on his life, research, and teaching.
It was clear that Waltz was gifted intellectually. His book Man, the State, and War was written in just over a year in 1959 and transformed the field. But this was only the start, he made major intellectual contributions in each of the next five decades — remarkable staying power for a scholar. Yet, as Jervis pointed out, Waltz was not really that prolific — only three solo authored books and the two major books (Man, the State and War and Theory of International Politics) were rather short. As one speaker noted, he wrote slowly and with few words, but because his did so, his words will last for a very long time.
In listening to the tributes, I jotted down notes on what people thought might have given Waltz the insights to make such a contribution to IR — and wondered more broadly, what makes a great scholar, one with the insights to transform and keep pressing the field for decades?
Here are a few thoughts from the tributes: Continue reading