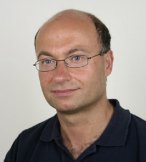 The eighteenth Duck of Minerva podcast features Stefano Guzzini of the Danish Institute for International Studies and Uppsala University . Professor Guzzini discusses, among other things his intellectual and educational background, his important work on power in international affairs, realism, and geopolitics.
This podcast is a bit more "bare bones" than usual. I didn't put in introductory remarks; I have not produced an m4a version at this time. The file located here is the mp3 version. Explanation: I am bit pressed for time right now.
I should reiterate important change to procedures. From now on, the Minervacast feed will host mp3 versions of the podcasts. The whiteoliphaunt feed will host m4a versions of the podcast [note: see earlier remarks about the m4a version of this podcast]. Unless I hear otherwise, we will continue this approach into the foreseeable future.