The Canard
"All the fake news that's fit to print"
I feel the need to mak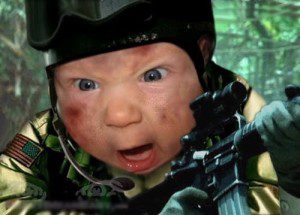 e a disclaimer here. If you think I am trying to get a tasteless laugh out of a tragic situation, you are incorrect. I have made my views about the gun lobby known here. In light of recent NRA proposals to place armed guards in every school in the country, real life is more farcical than this issue of the Canard. The point, it should be clear, is to illluminate the absurdity of the group's position.
In the wake of the tragic shooting at Sandy Hook Elementary in Newton, Connecticut, the National Rifle Association is advocating a new alternative policy for prevent gun violence – the arming of children of all ages. Wayne LaPierre, spokesperson for the NRA, issued a statement declaring: "Bad guys will think twice about entering a school to hurt kids if they know the kids are packing too. I know America's youth. They are not going down without a fight. Even kindergartners need to know the price of liberty. This is about the future of American democracy."
The NRA is citing studies by prominent international relations academics who argue that the proliferation of weapons actually makes all safer. The absence of weapons, it is argued, invites aggression, whereas the presence of weapons serves to deter. They cite the profound peace and stability that currently exists in the Indian subcontinent as an example.