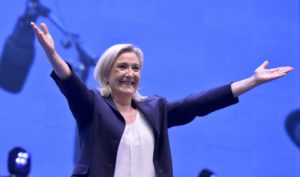 With populism on the march across the West in the past 18 months, conventional wisdom suggests this lurch toward nativism will continue. With the Dutch Trump increasing his seats in parliament, Turkey's President stuffing the ballot box to win a referendum taking him closer to full on authoritarianism, the National Front's candidate looking set to get into the second round of Sunday's French election by exploiting a terrorist attack, and Germany's long-time leader seeming tired and mounting a lackluster campaign, by most accounts the liberal international order is in for some additional sharp thrusts to the midriff. And what is bad in western Europe, according to a vast army of pundits is appearing even more fragile and vulnerable in east central Europe.
But au contraire, while the LIEO is not exactly alive and well, it remains in place and its upholders stand more than a fighting chance to preserve it in the face of Trump, Brexit, and Russia's taking the U.S. down a peg. Indeed, not only is western Europe holding the line, but east central Europe is lending a hand in erecting a wall against populism's surge. Were we to have the opportunity to choose any three countries in the world to hold elections in the midst of all this seeming upheaval we would select the Netherlands, France, and Germany. In essence, we are damn lucky it is this threesome instead of Italy, Slovakia, and Hungary or really just about any other country spanning the globe.
Against all predictions, the Dutch put the first pieces of this wall in sturdy place. Geert Wilders was stymied big time. We knew in advance that the Dutch political system of multi parties and rampant coalition governance would keep him from becoming Prime Minister, but he was widely predicted to get the most votes and augment his party's representation in parliament considerably. Wrong. The Dutch – like their French and German counterparts – are among the most informed, literate, and savvy in the world. They have watched the supposedly nonbinding Brexit referendum vote and Trump's rise in horror, and we should actually have expected them to do precisely what they did.
The French are on the cusp of doing the same, again smack in the face of widespread conventional wisdom. Observers seem to forget that the French have a notorious tendency to flirt with "extremists" in the first round of their presidential elections, only to clamor to the center and vote in moderates in the second. Now granted, we are not living in normal times. But the French are not about to traipse down the merry road of nativism; no indeed, they will be the last to allow any Trump effect to take hold in their motherland. In fact, it will be interesting to see how many talking heads begin to grasp that a vibrant "reverse Trump effect" has already taken hold in the West. More than merely doing the right thing, the wondrous French will revel in effectively giving Trump and the little Englanders the finger. Continue reading