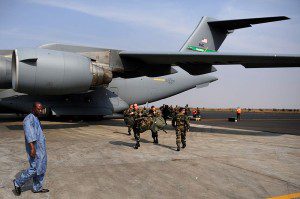 If there is an Obama Doctrine in the realm of foreign affairs, it comprises robust multilateralism—being multilateral when the U.S. can, unilateral when it must. Subjected to scrutiny, however, the Obama Doctrine can only work if the U.S. has capable and willing partners. Yet under conditions of widespread fiscal austerity among western allies—and the political austerity of skeptical western citizens—meeting the challenge of securing their joint interests is formidable. While the U.S. has begun to shore up the security of its allies in Southeast Asia via its rebalance to Asia, despite potentially threatening China in the process, forging renewed partnerships with long-standing European allies is even more essential.
Many commentators in the U.S. have written off its European allies, but a nascent trend to the contrary is now detectable. Britain, France, and others have begun recalculating their own willingness to act in light of the U.S. rebalance to Asia. Contrary to conventional wisdom in Washington, a shift toward greater European military activism may be underway. Indeed, the prominent role played by British and French forces inter alia in Libya and Mali are not isolated events; instead, they may be signs of things to come. In reality, top officials in the U.S. and Europe are making progress on beginning to find ways to usefully partner in order to deal with recurrent threats and unchanged security interests particularly pertaining to the Middle East and North Africa (MENA).
Despite a serious and ongoing financial crisis cum recession in Europe that in economic terms EU leaders have barely muddled through, on the security side our European counterparts by and large have not reduced their defense spending as much as has been widely assumed. On the contrary, certain potential U.S. partners have actually maintained and/or slightly increased defense spending. More importantly, military capability is a more telling indicator than crude measures of aggregate spending. Even where cuts are underway, as the Libya and Mali operations indicate, there is a growing propensity among certain European allies to act when their interests demand it—even on occasion largely without the U.S. In this regard the debate over intervening in Syria was little more than a sizable red herring, caught up in the faulty intelligence legacy of the Bush-Blair years. The one country that remained ready to act was France.
France has mostly been in the headlines of late for the personal peccadilloes of Dominique Strauss-Kahn and more recently President Francois Hollande, but credit goes to the French public for not being as squeamish as Americans—not only about the personal affairs of their leaders, but more importantly about the increasing propensity of France to project foreign policy power and intervene in a series of recent global crises in both MENA and Africa proper. Continue reading