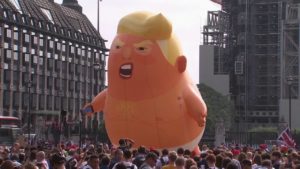 For the first year of the Trump Administration, the Washington D.C.- based denizens of the U.S. foreign policy establishment assured themselves that although Donald Trump had tipped over the geopolitical apple cart, everything broken could be put back into place without undue difficulty. They were wrong.
Taking their cue from the caustic reactions of American allies to Trump's twin summit debacles, foreign policy elites on both sides of the aisle are now a chastened bunch–only too aware of the immense damage Trump is doing to the fabric holding together America's alliances, the de jure and de facto clusters of its closest allies.
The allies have become increasingly disabused of this Administration's year-long recitation of how much it values them, in both trade and security terms. For they now stand on the precipice of deeming the U.S. a pariah nation state, not to be trusted and sufficiently harmful to their interests that they appear on the verge of sidelining the U.S. in their renewed approach to preventing the world from succumbing to the throes of nationalism. It would appear the world is at an unprecedented inflection point, at least in the postwar era.
Donald Trump's penchant for lauding dictators and potentates, while denigrating allies and friends–in remarkably personal and pugilistic terms–has caused our NATO, G-7, and WTO allies to begin laying the groundwork for isolating the U.S. when it comes to tending to their core national security interests. Already in the early days of the new Administration, public reports surfaced that the UK and Israel had discussed at the highest levels of their governments whether it might be necessary to begin withholding certain tranches of their most sensitive intelligence.
In recent weeks the President of the European Council Donald Tusk remarked "with friends like this, who needs enemies," while the new German Foreign Minister Heiko Maas gave a speech in which he equated recent U.S. foreign policy forays with those of Russia's actions that have directly harmed Europe. Already his predecessor Sigmar Gabriel had declared on his way out that "the U.S. is permanently changed." And Emmanuel Macron declared this week that France does not share the same values with the U.S. Only our Asian allies have been more cautious in their recent appraisals of American missteps, for traditionally Japan and South Korea are less public about their discontent.
The cost of the unprecedented calumny on the part of the Trump Administration in their eyes is significant, and growing closer to severe with each passing week. For it is increasingly clear that America's allies are becoming less secure and less well-off due to direct assaults on them from this President, both verbal and consequential. Ipso facto, the U.S. is becoming less secure and less well off as a result. Continue reading