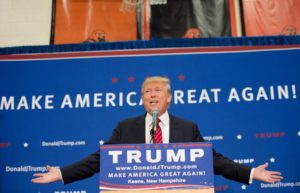 Now that the U.S. presidential race has been whittled down effectively to Hillary Clinton and Donald Trump, and after Trump's much anticipated foreign policy speech last week, we now have a Trump Doctrine, a new Clinton Doctrine—different from Bill Clinton's pro humanitarian intervention doctrine—to contrast with the often misunderstood Obama Doctrine.
As foreign policy has begun to feature more prominently in the race for the White House, we can no longer beg the question as to which of these would better serve core U.S. national security interests, not to mention the interests of our closest allies—and especially not with the emergence of a new global security crisis seemingly every three months or so, and new ISIS affiliates popping up even more frequently.
Analyzing this trio of foreign policy doctrines, essentially the grand strategy adopted by each of America's three most prominent political leaders, has been akin to peering through a glass darkly. Analysis has been all over the map, which is at least partially explained by the degree to which this triumvirate has not been particularly clear in laying out their core foreign policy principles. Misperception aside, however, the new Clinton Doctrine appears to stand above the President's and far above the presumptive Republican nominee's.
President Obama and his closest aides have long bristled about the phrase "the Obama Doctrine," and only in his final year in office has he tacitly accepted the use of the term in the landmark Atlantic article by Jeffrey Goldberg with this very title (one of the rare occasions when the President has opined at length about his principles and actions abroad). In-between, analysis of the Obama Doctrine has varied widely.
Early on the Administration cast its over-arching strategic chessboard move as a "pivot to Asia", meaning the U.S. intended to focus less on the transatlantic region and more intently on the Pacific Rim. European and Middle Eastern allies reacted negatively upon its declaration, and the phrase was rapidly recast as the "rebalance to Asia." But it was a mistake, as the Chinese soon branded it "containment of China" due to the pivot's military moves embedded in a wider set of diplomatic and economic moves. Continue reading