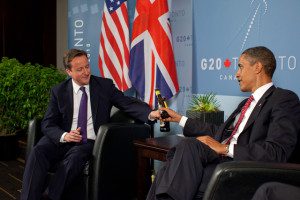 The diplomatic dustup over Syria brought Russia in from the cold but simultaneously froze any notion that western allies were getting their strategic act together. Nonetheless, although the mistakes in the U.S. and UK's approach to building support at home and abroad for an intervention in Syria confused leaders and citizens alike, these mistakes should not be interpreted as an abrupt turn-around in their and their allies' strategic thinking.
In fact the Europeans, even under a prolonged condition of austerity, are making progress filling in the capability gaps made clear in the course of the Libyan operation. Recent history has demonstrated that arguing the U.S. should keep its security blanket in place despite the end of the Cold War—out of fear that Europeans would not increase their own defense capabilities in kind—was mistaken. Still, austerity has prevented sufficient progress to avoid the joint security trap.
Were the Arab Awakening to go awry and were an al-Qaeda affiliate to begin setting up training camps and operating somewhere such as Yemen, the U.S. or possibly NATO would no doubt heed the call once more to deal with the threat.  But any future crisis in Europe's direct neighborhood, somewhere like Tunisia, will require Europe to take the lead as the U.S. is likely to take a pass.  It is therefore in the joint interests of the U.S. and Europe not to reduce their mutual security at this critical juncture.
However Europe has yet to develop its own integrated, deployable, expeditionary military capability; instead a number of European allies à la the U.S. have been slashing their defense budgets under austerity.  But akin to the classic prisoner's dilemma, if the U.S. and European allies do not coordinate their cuts and agree to begin "combining" what is left, both will become worse off and experience a mutual loss of security in lieu of cooperating.  In fact, at this juncture western allies are actually on the verge of becoming ensnared in the joint security trap. Continue reading