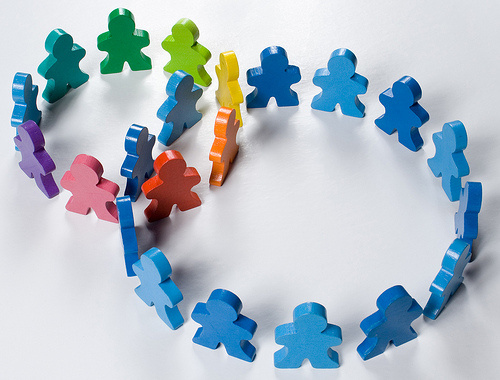 Editor's Note: This is a guest post by David Lake, who is the Jerri-Ann and Gary E. Jacobs Professor of Social Sciences and Distinguished Professor of Political Science at the University of California, San Diego.
I want to weigh in on "networking at conferences" debate here on the Duck (and elsewhere), some of which has been lost in subsequent controversy.
I agree with the prior posts by Saideman, Nexon, Sjoberg, and others, available here, that networking is less important than good research, and that networking among peers is far more valuable than networking with senior scholars. The most valuable thing you, as a junior scholar, can do at a conference is cultivate a group of peers who share your intellectual interests, who come from sufficiently different intellectual backgrounds (e.g., graduate programs) that you can learn lots of new things from them, and with whom you are personally comfortable and compatible.
Some of my closest and most trusted colleagues are those I met at the first few APSAs I attended. We started off as competitors for "attention" on panels, and ended up as collaborators, commiserators, sometimes colleagues, and in the end, good personal friends. These are the people who will keep you sane in the profession. They will read and comment on your work, share your professional worries and fears, understand the frustrations of balancing career and family, applaud your successes and, yes, cry with you at your failures (I remember one devastatingly bad presentation at an NBER conference from which I would not have recovered were it not for a couple of these good friends also attending and even more bottles of wine). You can't plan these relationships, nor randomly roam the halls of the hotel looking for them, but be open to possibilities and take risks: ask a fellow panelist to coffee at the conference, follow up on an interesting discussion, and most important collaborate in organizing a panel on your mutual interests for a future conference.
But let me offer a slightly different perspective on networking from the other posts on this topic. Yes, approaching senior scholars is hard. I have done my share of approaching over the years, and recognize the courage it takes to introduce yourself to someone you know only through their writings. Now, more often than not, I'm the senior scholar– at least by age, if not yet self-image – who is being approached. Having been on both sides of these interactions, I recognize they can often (always?) be awkward. You will sometimes get shot down, as I was on numerous occasions. Not every overture will be reciprocated. But some will — and truly rewarding interactions and mutually beneficial intellectual relationships can follow. Continue reading