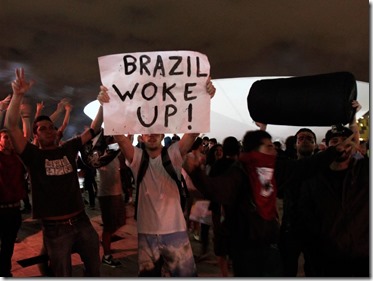 Jay Ulfelder and I had a Twitter conversation on this question in the last few days (here and here). But Twitter has such limited space, I thought I would break out our discussion on the blog and ask what others thought.
Watching all these riots – driven heavily by youth dissatisfaction, it seems – is making me wonder if this might spread to Asia's democracies.
A lot of the problems these protests are identifying exist in spades in Asia: high-handed, out-of-touch governments; election-proof pseudo-technocracies that act as unaccountable oligarchies; shallow, clique-ish political parties that provide no meaningful transmission belt of citizen preferences; massive government and business corruption; wasteful white-elephant spending to capture global 'prestige' while everyday services like health care and education are underfunded; closed political opportunity structures that regularly reward insiders and large corporations with crony connections to the state; wealthy, de-linking elites with 1% lifestyles wildly at variance with the rest of the population… That's Asia too; there's more than enough sleaze to go around.