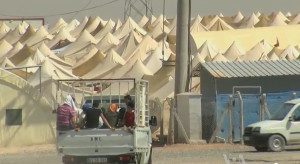 Syria's civil-proxy war is on the cusp of turning into an all-out regional war, with negative repercussions for all involved in the conflict. The humanitarian disaster is at its most acute to date, with Russian forces systematically attacking the Syrian opposition and on the verge of a rout of Aleppo—and now Turkish ground forces engaging Kurdish forces across its border. With the U.S.-Russian ceasefire accord appearing unlikely to alter much on the ground, the time has come for the U.S., Europe, and the Saudi-led Gulf countries to make a decisive move to take the initiative back from Russia, contain Turkey, and stabilize the conflict.
Anti-ISIS efforts in northeastern Syria and Iraq aside, the pressure point at present is in northwestern Syria. Conventional wisdom suggests that there are no good options for the allies: 1) Attempting to implement the loophole-ridden ceasefire accord, 2) allowing Russia to continue bombing "terrorist groups" i.e. the opposition forces, or 3) taking more direct military action directly against the Syrian military, for which there is zero appetite in the U.S. and Europe. Nonetheless, putting a safe/no fly zone option back on the table would not only meet the joint interests of Western and Gulf allies, but also prove viable on the ground. Not only has Turkey called for this, but so have Germany and France–not to mention Hillary Clinton.
While Turkey will be critical for getting to an eventual endgame in Syria, at this crucial juncture this key western ally needs to be contained itself. Turkey has been shelling Kurdish YPG militia forces for the last week, and now that one of its operatives is being blamed for the successful attack in Ankara, Turkey is on the verge of a highly destabilizing escalation. Turkey legitimately needs the U.S. to press the YPG to back off, and Turkey itself has called for the establishment of a Safe Zone. The U.S. and its western allies need to act fast, also to ensure that the YPG does not "defect" and transfer its allegiance to Russia—which would be another coup for Russia.
Having ceded the initiative to Russia, not seizing it back would be an additional strategic error. Already the Russian action proves that conventional deterrence against it remains lost, even after announcement of a major U.S. effort to shore up western capabilities in Central Eastern Europe. Even before it could be enacted, it is falling short of one of its major objectives: the intended deterrent effect is stillborn. Russia has already wiped out the efforts of allied intelligence agencies on the ground in Syria. And at the Munich Security Conference it just took the mask off in claiming it is in "a new Cold War" with the West. To begin restoring deterrence, western allies need to act. It was a mistake to publicly declare that military options in Syria were off the table, indicating the diplomacy track is now the basket holding all the Administration's eggs. The allies need to pursue a different option in order to regain their lost leverage. Continue reading