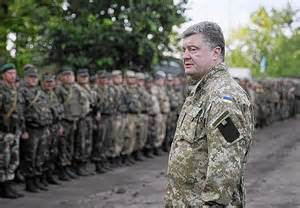 Just as the international community appeared at long last to be taking a stronger stand against Russia, President Putin upped the ante. Unlike its annexation of Crimea, Russia is now in open warfare with Ukraine on its eastern border. There is fresh evidence indicating not only that Malaysian Airlines Flight 17 was shot down by Russian-aided rebels in eastern Ukraine, but also that the Russian military has been firing missiles and artillery from its own territory at targets inside Ukraine proper. Russia has redeployed over 20,000 soldiers near the Ukrainian border.
The SA-11 mobile missile battery was supplied by Russia and crossed into Ukraine in a large Russian military convoy a week in advance of the attack, which included additional missile batteries. Radar information, wreckage from the crash, and intercepted phone calls implicate the rebels directly, as well as Russia's involvement in the cover-up. The crash site was thoroughly tampered with by the rebels, who delayed releasing the bodies of victims and have yet to release the monitoring officials from the OSCE that they have held captive for months.
Russia decided to up the ante of its double game prior to the shooting down of Flight 17, a response to the recent gains the Ukraine military forces have been making against the pro-Russia rebels. In fact many of these rebels are not just pro-Russian, they are full-fledged Russian citizens—including some notorious bad apples that Russia previously used in not so subtle attempts to destabilize former members of the Warsaw Pact.
But just as the EU is about to drop a new sanctions hammer on Russia, the Russians have taken the Putin Doctrine to a new more dangerous level. They have transitioned from weeks of waging irregular warfare against Ukraine to low grade standard warfare, and they appear to be preparing to raise that grade and potentially invade Ukraine Georgia-style. What more crystal clear evidence could there be that western allies have yet to establish conventional deterrence vis-à-vis Russia? Continue reading